Firefox has already more than 1200 extensions. Which ones are useful? After indulging in installing few hundred of them, I choose the 27 best, based on how much I use them every day. I've been impressed by many, but these 27 are the ones I use daily. The order is alphabetical.
1. AI Roboform Toolbar : http://www.roboform.com/
When you register to the 101th site and you get your Nth username and password it starts dawing that you need a password manager. Frustrated, and after some searching, I found Roboform. Roboform stores my usernames / passwords and logs me automatically to all the sites, forums, and shops I'm registered with. I use it all the time and it has saved me hours of login and filling forms. Roboform gives a free limited trial version. The limitation of the free trial version is a limit to the number of user-added passwords (less than 10 after the first 30 days of use).

2. All-In-One Sidebar : http://firefox.exxile.net/
Great extension that adds buttons for accessing the sidebar views and a sidebar menu. You can view useful info such as installed extensions, downloads, html sources, bookmarks, history and views from various extensions.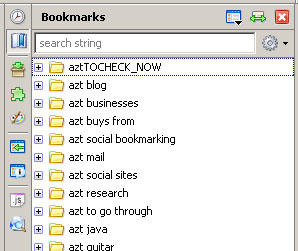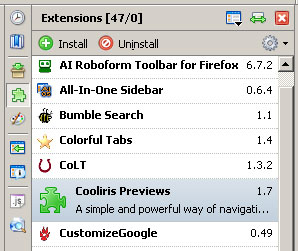 3. Colorful Tabs : http://varun21.googlepages.com/main.html
Puts various colors to the tabs. May seem trivial, but it's actually very useful. It helps you make the memory association of which page is in which tab a little quicker. Looks nice too.

4. CoLT (short for "Copy Link Text") : http://www.borngeek.com/firefox/colt/
Adds a menu option for copying an html link in full formatted html. Small extension but very useful to bloggers and webpage designers. It also allows you to define you own syntax for the HTML output.
5. Optimise Google : http://www.customizegoogle.com/
Enhances Google Search with various links and features. Many options. The most important are shown below.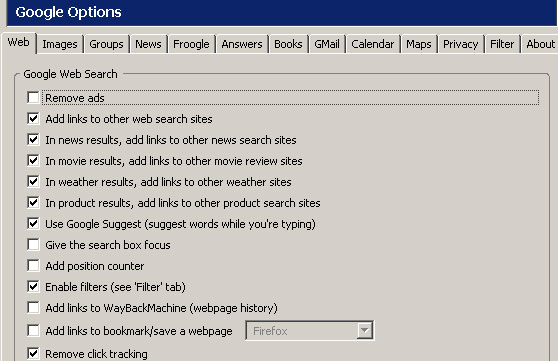 6. del.icio.us Extension : http://del.icio.us/
Adds a menu that helps del.icio.us users to add and retrieve del.icio.us. bookmarks.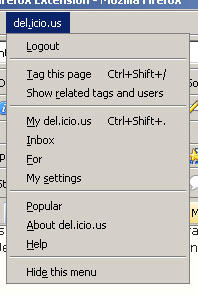 7. Digg This : http://j.domaindlx.com/diggthis/
Adds a simple menu option for adding bookmarks to the digg service. You can set up digg so that it communicates with your blog and announces the new bookmark.

8. DOM Inspector : http://www.mozilla.org/projects/inspector/
Inspects and edits the live DOM of any web page or XUL application. It renders itself on the sidebar. Very useful to test and debug CSS.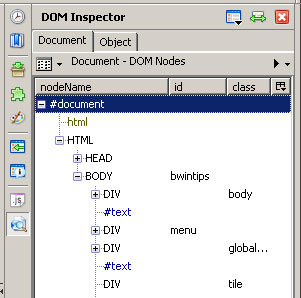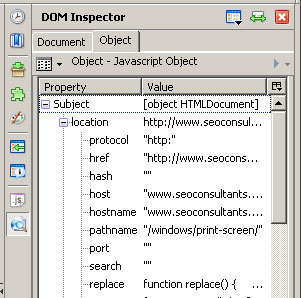 9. Duplicate Tab : http://twanno.mozdev.org/
Adds a menu option to duplicate a tab with its history to a new tab or window and to merge two windows into two tabs.

10. Fasterfox : http://fasterfox.mozdev.org/
Loads faster web pages by prefetching parts. Renders a small page timer counting in seconds.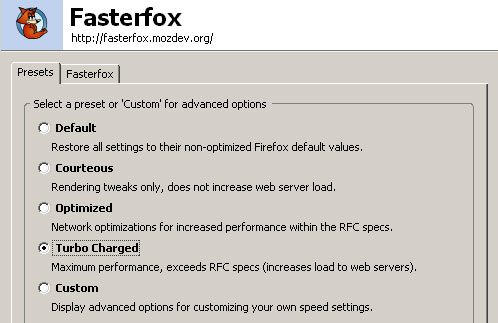 11. Firefox Extension Backup Extension v.3 (FEBE) : http://customsoftwareconsult.com/extensions/index.html
Gives you the option to backup and restore your installed extensions, themes, bookmarks, preferences and cookies. I have used it to pass my installed extensions to other computers. Version 3 allows you to install all the extensions in one step. Adding the CLEO extension to FEBE, gives you the option to save all the extensions in one file.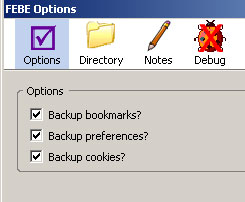 12. Fission : http://forums.mozillazine.org/viewtopic.php?t=370248
Makes the address bar a little more useful by displaying a progress bar. Good idea, not an eye candy, it actually works well and is very useful.

13. Google Preview : http://ackroyd.de/googlepreview/
Appends website thumbnails to google and yahoo results. Brilliant. Once you have it once you need it. It would be great to have also statistics (alexa, google pagerank, even SEO stats etc) on the right of each link.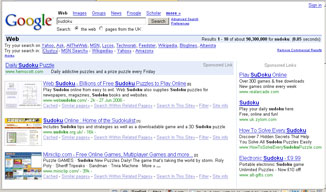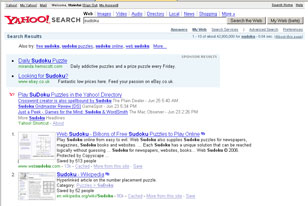 14. IE Tab : http://ietab.mozdev.org/
Allows you to start a tab with the actual IE rendering engine. No excuses about firefox not rendering everything. When a page needs IE, I just select to view it on a IE container in Firefox. Through its options, you can store a list of addresses that get always rendered by IE.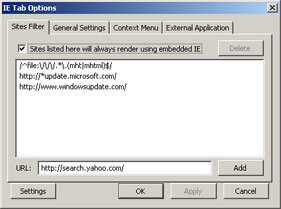 15. Mouse Gestures : http://optimoz.mozdev.org/gestures/
Save your wrists from RSI. Use gesture recognition software to decrease mouse movement. I have been using gesture recognition software daily since 2001. It speeds up massively using the computer. Once you spend 20 minutes learning the gestures, there is no turning back. It's invaluable, guaranteed :). Once you get hooked to it, you can extend it by either making your own gestures or by downloading user-created gestures that already exist for 100s of tasks.



16. Mozlab : http://dev.hyperstruct.net/trac/mozlab
Write your own mozilla extensions and use Mozlab to explore and modify them whilst running. When you install Mozlab you get an option to replicate your browser. Then you can telnet to localhost on port 4242, and access your mozilla client through commands. The demo video of using mozlab is pretty impressive.
17. MyPortal : http://myportal.mozdev.org/
Dynamically creates a page with all your bookmarks. Very useful when you want to go through many of your bookmarks in one session.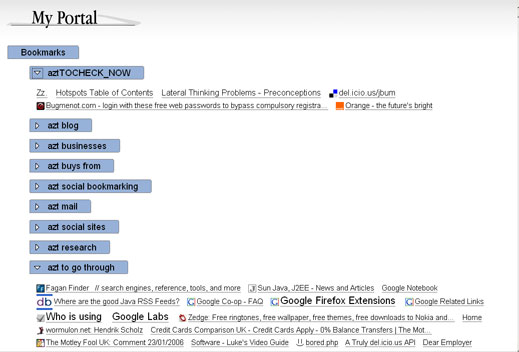 18. Performancing :http://performancing.com/
Excellent extension for bloggers. Performancing, allows you to instantly blog comments you made to any of the major blog systems, or even your own (if your blog supports Moveable Type or WordPress).

19. RanQuest SEO Toolbar : http://www.rankquest.com/
Ranquest installs a toolbar with Search Engine Optimization (SEO) related tools:
Validation Tools: Server Header Checker, HTML Validator, Code Cleaner, Link Checker
Content Tools: Keyword Density analyzer, Lynz View, Link Explorer, Text Ratio
Meta Tools: Keyword Finder, Meta Tag Analyzer
Popularity Tools: Link Popularity, Search Engine Saturation
The SEO Toolbar also contains menu links for various SEO related task such Whois, Link Stats, Page Report, and for SEO diff-ing between pairs of sites.

20. Reveal : http://aluminum.sourmilk.net/reveal/
Shows thumbnail pictures of your active tabs or your history. To see thumbnails of the tabs you need to press F2 or Alt-. Then to see thumbnails to your history pages you press the button Insert.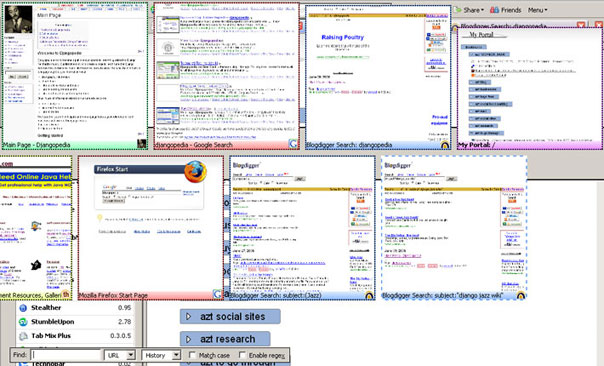 21. Rite of Tongue : http://hashcolouredtabs.mozdev.org/riteoftongue/
Spell checks the selected word and gives alternative spelling.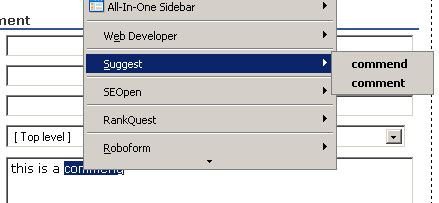 22. RubNub : http://www.rubnub.org/
A YubNub toolbar. If you haven't heard of yubnub web commands go check them now! The idea is great, and if at some point we can get pipes connecting the various yubnub commands we'll have the first real web language 🙂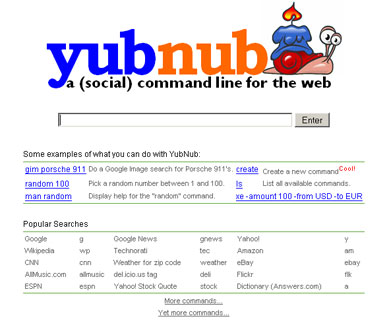 23. Sage : http://sage.mozdev.org/
RSS & ATOM sidebar reader. Very convenient, allows you to organise your feeds and display them using your own stylesheet.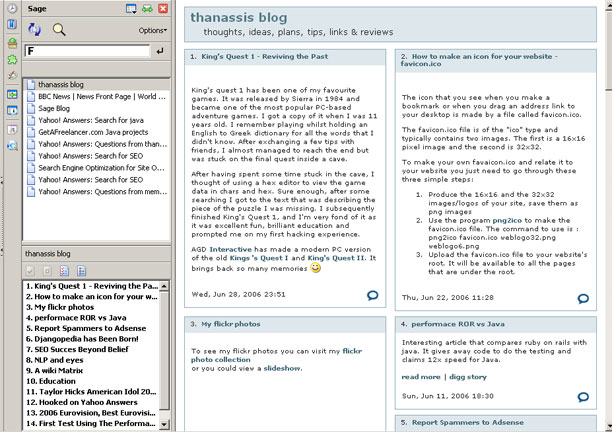 24. Search Status : http://www.quirk.biz/searchstatus/
Two useful indicators for the current page's popularity, the Google and the Alexa PageRank. Adds a small menu with some useful options for finding information about a site.
25. StumbleUpon : http://www.stumbleupon.com/
Toolbar with stumbleUpon buttons. StumbleUpon is a social bookmarking site. When you first register you select your interests and it gives you highly voted links by its users. Up until now it has given me
links worth bookmarking three out of five times.

26. VideoDownloader : http://videodownloader.net/
Video Downloader is an extension that allows you to quickly download video files from video sites like youtube, google video etc. You can save the video and play it locally if you have the correct video player. You can usually download freeware video players for the various formats but you can also convert the video formats.
27. WebDeveloper : http://chrispederick.com/work/webdeveloper/
Very useful extension for web developers. It creates a toolbar menu with 100s of useful options.

After these extensions this is how my browser looks like: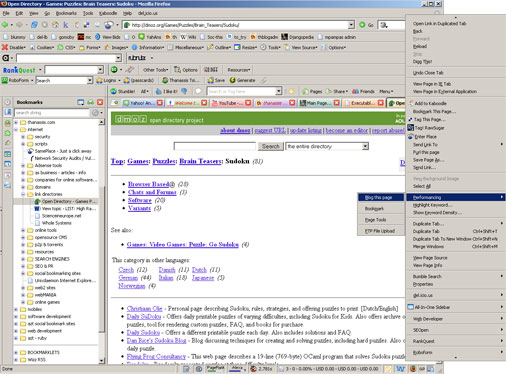 I dont mind the busy GUI when its elements are genuinely useful 🙂