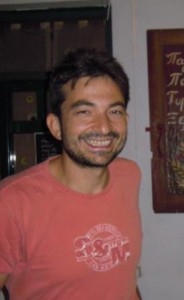 Thanassis.com started back in 1998 as a site to give out tutorials, code, and other bits and pieces to my programming students. Since then, the site has expanded to cover several of my interests. I hope you enjoy your stay and you find something useful and fun. Here you can find:
Online games: Try to beat the computer on an Ivory Tower round. I developed Ivory Tower as a clone of the famous Acromage game. It's a fantasy D&D card game- much simpler than MAGIC. If you like Sudoku you could attempt the 12 Board Sudoku challenge or simply download and print the Printable PDF sudoku puzzles. My latest game, WebHangman, is an image fetching hangman. It uses a disctionary of 22000 english words and fetches images related to each word to help the player.
Software development info: Read or download my Java training resources. My latest addition is a full seven day training course for programmers. The Java section links also to my java games and their source code. In the development section you'll also find resources for Mobile J2ME development, Object Orientation, UML, Frameworks, and Design Patterns. In the past I've spent lots of time developing Computer Based Assessment (CBA) Software. You can view information about my research on CBA and diagrams and important Computer Science research links.
Galleries and best links : Useful Greek sites and beautiful photos of Greece. Resources on Music, especially Jazz guitar. My favourite photos and resources on photoshop and filters.
Personal info: CV, favourite quotes, photos from my journeys and some other interests. You can send few words using the textbox in the contact page.
blog: with articles, links, tips, and reviews for Blogging, Education, Music, Photo/Art, SEO/PPC, Social Web, Software, Tools/Links.